Step-by-step guide to address "NET::ERR_CERT_AUTHORITY_INVALID" error in Google Chrome
If you see this error when you're trying to visit a particular website in Google Chrome — or, worse, your own website is showing this error — the following reasons could be why:
SSL certificate is self-signed.
The website's SSL/TLS certificate was issued by a certificate authority (CA) who not trusted by Chrome. This often happens when the certificate authority is not a member of the CA/B forum.
The Solution for Website Owner/Webmaster
If you're the website owner, seeing a "NET::ERR_CERT_AUTHORITY_INVALID" warning message must be an alarming indication that the browsers do not trust your SSL certificate.
Bringing visitors to your website is a challenging task for every webmaster. And when such hard-earned web visitors abandon your website as the result of SSL certificate-related errors, you lose both in terms of your business's bottom line and reputation. This is one reason why you may want to consider changing to a different certificate authority.
If you're using a self-signed SSL certificate just to save money or to save yourself from dealing with the SSL installation process, you're merely unaware of the latest trends of SSL industry. You can get the most reputed brand DigiCert's RapidSSL certificate for less than $15 per year with a $10,000 warranty and a free site seal. Plus, you can outsource the entire pesky SSL installation process for just the one-time expense of $29.99.
The Solution for Website Visitors
The best thing you can do as a website visitor is to contact the website owner or webmaster and ask them to resolve this issue because:
Visiting such a website can be potentially dangerous, and
They may not be aware that their site is displaying a "NET::ERR_CERT_AUTHORITY_INVALID" warning
However, if you choose to proceed ahead anyways, one of the following methods will likely work for you:
1. If your web browser is outdated and does not support the current version of the SSL certificate's encryption algorithm, update your browser.
2. If cookies in your web browser are creating the issue, try the following methods:
Go to Chrome, click on the menu from the top right side (it looks like three stacked dots).
Select new incognito window.
Try to open the website in incognito mode —if the website loads without an error, the issue is with your Chrome extension. This means you'll need to turn off the extensions.
To deactivate browser extensions in Google Chrome:
In the Chrome browser, click on the menu at the top right.
Go to more tools.
Click on extensions.
Make your changes:
Turn on/off: Turn the extension off.
Note: SSL certificates from untrusted CAs are often used by cybercriminals who otherwise can't get legitimate certificates from trusted CAs. Attackers use such certificates for phishing attacks, which involves making fake versions of popular websites. You should avoid surfing on unsecure websites (those without HTTPS in their web address). However, if you're 100% sure that the website you're trying to visit is safe and won't cause any harm, only then should you consider performing the following steps to get rid of NET::ERR_CERT_AUTHORITY_INVALID error message:
3. Antivirus software or firewall is creating the issue.
Some antivirus software are too sensitive towards SSL errors if they have enabled "HTTPS protection" or "HTTPS scanning." If your antivirus software or firewall is creating the issue, you can disable your antivirus program for a while to visit the website. Don't forget to reactivate your antivirus solution once you're done visiting the website
Disclaimer: Deactivating your antivirus and firewall solutions may leave your system vulnerable.
4. Temporarily ignore the SSL error: option 1 (not recommended)
Write Chrome://flags in Chrome's address bar.
Locate the following option and select enable from the dropdown menu on the right side.

Note: Disable this option as soon as you're done working on that website.
5. Temporarily ignore the SSL error: option 2 (not recommended)
Right-click on your Chrome icon from your desktop — select properties and shortcut.
Now write down "-ignore-certificate-errors" after /chrome.exe in the target field. Press apply, and then OK. Restart the Chrome browser.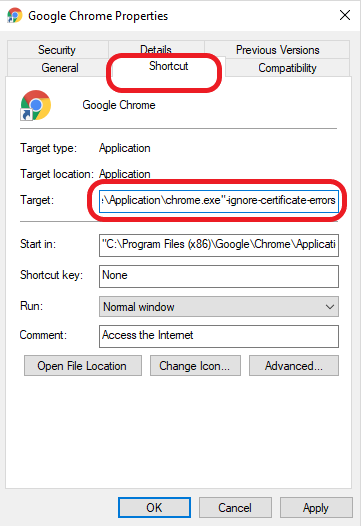 Buy SSL Certificates – Save 79%
At RapidSSLOnline we offer the cheapest SSL certificates at an incredibly discounted rate, starting from only $12.42/yr. We offer a 30-day money back guarantee and 24/7 support to help you implement your SSL certificate.
Shop for RapidSSL Certificates