A site seal is a small graphical representation that indicates a website is secure and invokes trust in end users. A GeoTrust seal comes with an established brand value that inspires confidence in end users by imparting information about the company. It also may even increase conversion rates.
There are two types of site seals – static and dynamic. Here's what to know about each, and how to get a GeoTrust Secured Seal for your website.
Static Seal vs Dynamic Seal
A GeoTrust SSL seal lets your customers know that a leading global certificate authority has approved your website. It presents instant proof of trust and identity. But what are the differences between static and dynamic site seals? Static seals are a visual indication of security, but do not communicate any additional information. Dynamic seals, on the other hand, are clickable and display information regarding your company, certificate validity, and additional verification information. Every time your website is rendered on a client browser, an embedded JavaScript code runs in the background and makes a connection with the GeoTrust registry server. The registry server runs a check and sends the dynamic GeoTrust site seal as a response.
Buy GeoTrust SSL Certificates – Save 75%
Buy GeoTrust SSL Certificates for as low as prices. It includes all types of GeoTrust Certificates like DV SSL, OV SSL, EV, Wildcard SSL, and Multi Domain SSL Certificates.
What Are the Benefits of Using a GeoTrust Secured Seal?
Here are some of the most significant perks of having a GeoTrust site seal placed on your website:
Increases conversion rates
Instills confidence in visitors
Makes you stand out from competitors
Displays validated company information (when users click on it)
Get the GeoTrust SSL Seal on My Website: Step by Step Guide
Now that we've discussed the different types of site seals, let's look at the steps to install a GeoTrust seal for your website:
The first step is to obtain the SSL certificate.

In your GeoTrust Security Center account, from the list of certs, select the one for which you want to get the GeoTrust site seal.
Scroll down. Under the order summary tab, you'll see an option to get a seal code.
You'lll then be redirected to a page with installation instructions for setting up the GeoTrust SSL Seal.
How to Generate the GeoTrust Secured Seal
Choose the size of the seal and enter the website name without http:// or https://.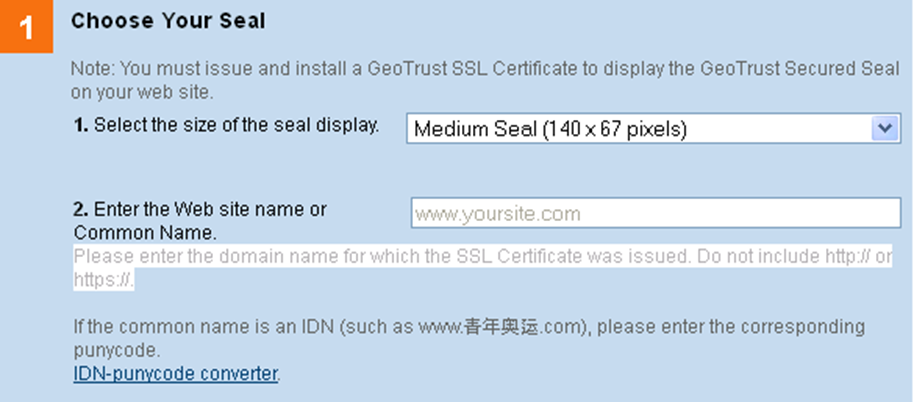 Create the seal script by accepting the terms and conditions and clicking on I accept, create script.