Quick & Easy Guide to Obtain an EV SSL Documents for Big Brands SSL
Understanding EV Certificates
EV (Extended Validation) SSL certificates are amongst the best and highest rated products to enhance and build user confidence for your website over the Internet. As the name implies, these certificates have a rigorous validation process to ensure only the most authenticate and transparent companies get to use the Green Bar on their website. For those interested in using the Green Bar, RapidSSLonline.com has presented a Quick and Easy checklist to make sure your company meets all the requirements needed to attain an EV SSL certificate and blow your competition out of the water.
What Makes EV Certificates so Great?
EV SSL Certificates specialize in boosting consumer confidence when making an online purchase. Everyday thousands of transactions occur over the internet worth millions of dollars. Studies show the biggest fear shoppers have when conducting transactions online is information theft. EV SSL certificates tackle this issue head on with features such as the "Green Bar". With the Green Bar, a company's registered business name will be displayed in the URL, this way customers will know exactly who they are shopping from. Along with the Green Bar, EV SSL certificates come with a dynamic site seal. The site seal is essentially a stamp of validity on the website showing it is monitored by the CA. Customers can click on the site seal to learn more information about the company. Of course EV certificates also come with the legacy SSL features such as:
Tough 256-bit encryption strengthening to encrypt transactions
99% support for all the modern web and mobile browsers
Unlimited Server Licenses
Free self-reissuance for life span
For more information on EV SSL security, visit our official EV page.
https://www.rapidsslonline.com/ssl-types/ev-ssl-certificates.aspx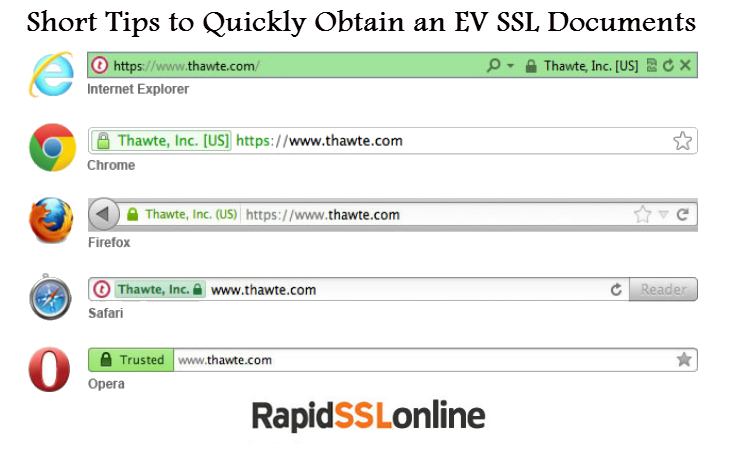 Requirements Needed for Validation
Certificate Authorities (CA) require that the company present a valid business license stating that the local government has authenticated the company to conduct commercial activity in the stated geographic location. To complete this step, usually the CA will reference a government database online to validate the information given by the company when placing the order. In the special case that a government listing was not found and/or information was incomplete, the CA will contact the company directly for a copy of a valid business license and/or additional documentation.
The CA may request a copy of one or more of the following EV SSL documents:
Business License
Trade Name Registration Document
A Certificate of Foundation
A Charter Documents
A Copy of Partnerships
A License copy of Vendor, Re-seller, or Merchant
Fictitious Name Document
Articles of Incorporation
The Information Being Verified
When a Certificate Authority is engaged in the validation procedure they are searching for the business name, business address, valid phone number, and legal registration documents. This information has to come from a trusted source such as government database or official document as stated above. In the case that this information cannot be completely verified an alternative third party source can be used.
Valid third party sources include:
Dun & Bradstreet
Public Phone Registry (for phone number only)
Special Cases
In the event that the CA cannot validate the required information using a government registry, official document or third party resource, than the CA will request a Legal Opinion Letter and/or copy of an active demand deposit account with a regulated financial institution.
Business that have been in operation less than 3 years must us either a Legal Opinion Letter, documents with financial institution or Dun & Bradstreet listing.
In order to obtain more brief and in-depth information about EV SSL documents, then we would refer you a Certificate Authority website official web page, where they clearly mention about each and every document briefly. Read more from here.