Understand GeoTrust SSL Certificates To Secure Small E-commerce Websites
Small and medium sized e-commerce businesses generally have lesser brand awareness as compared to their well established peers and, hence, in their case the level of users' security concern is much higher. In fact, many visitors knowingly limit their online transactions because they are afraid of being robbed of their personal and financial information on such sites. Their paranoid behavior can be very well explained with the rise in the online frauds & identity theft cases. Unfortunately, many of the small e-commerce businesses escalate this skepticism by compromising on the web security front for a little amount of money, which leads to such instances of thefts.
For these smaller scale businesses to expand themselves, gaining trust of the online customers becomes vital for success. Earning this confidence from all the visitors and prospects, calls for effective safety tools like an SSL (Secure Socket Layer) certificate & Web Security products. By adding well-known security logos to their websites and by using private SSL certificates, business owners can ensure the safe mode for transaction can be pointed out to their visitors. But managing this level of security should not cost small and medium business owners' an arm and a leg! GeoTrust, Inc. aptly enters the scene with their range of affordable and state-of-the-art web security products.
GeoTrust Inc. is an established name in the arena of Identity & Trust Services. They are the second largest digital certificate providers in the world with more than 70,000 companies spread across 150 countries. GeoTrust effortlessly manages to enable organizations of all sizes to strengthen the security of their online transactions cost-effectively. Web Security Services by GeoTrust offers the hosting providers and businesses with excellent digital certificates for rapid transaction security and patent-pending smart-seals to ensure a trusted identity on the Web.
Here, let's take a look at the key features that qualify GeoTrust as the perfect choice for medium sized e-commerce businesses who seek to offer all their customers a strong shield of security at economical rates.
Increase transaction conversion rates
Fast issuance, often within few minutes
Compatible with 99%+ browsers
Free lifetime, self-service reissues
Lowers overall SSL maintenance cost
Their multi-domain certificates ease certificate installation and management via single-certificate support of any combination of domain names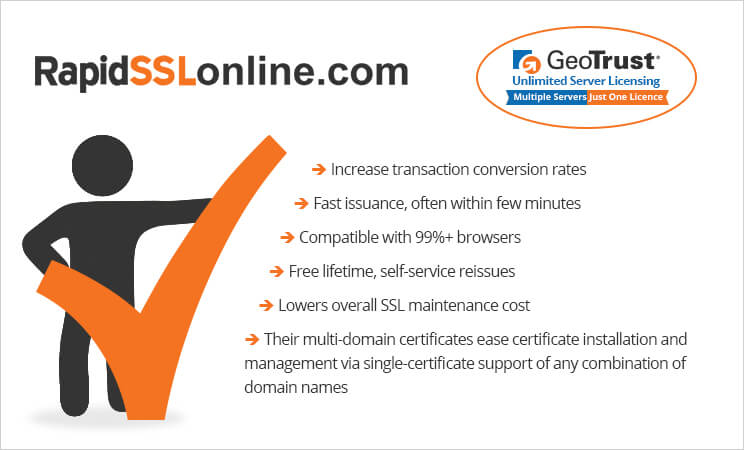 Brimming with these features, GeoTrust has attained an indisputable position of being the largest low-cost SSL brand which is solely focused on security. With GeoTrust, you can get an inexpensive SSL certification without giving up the important factors like convenience, choice, reliability, quality and, most importantly, expense.
GeoTrust SSL Certificates & Save 58%
Secure a website with world-class and the most trusted GeoTrust CA Certificates. It offers 256-bit encryption, dynamic site seal, unlimited server licenses, free reissuance, and more.