Chrome 68 to mark all HTTP sites as "Not Secure"
Google Chrome, the most popular browser on the planet, has just rolled out an update of version 68 and it's one of the most crucial Chrome updates in recent times. The reason behind this is the decision of Google to mark all HTTP sites as 'Not Secure.' Yes, you read it right. All websites serving content over HTTP will now be marked with a 'Not Secure' warning.

This move was announced back in May and is a significant move in Google's long-standing pursuit of 'HTTPS Everywhere.' Emily Schechter, Chrome Security Product Manager, called this move a "milestone" on Google's official blog and rightly so.
Although a good part of the internet is encrypted, a big part has yet to migrate to HTTPS. The deadly 'Not Secure' warning by Google should do what hasn't been done by any of Google's actions to date. This is what Chrome 68 'Not Secure' warning looks like: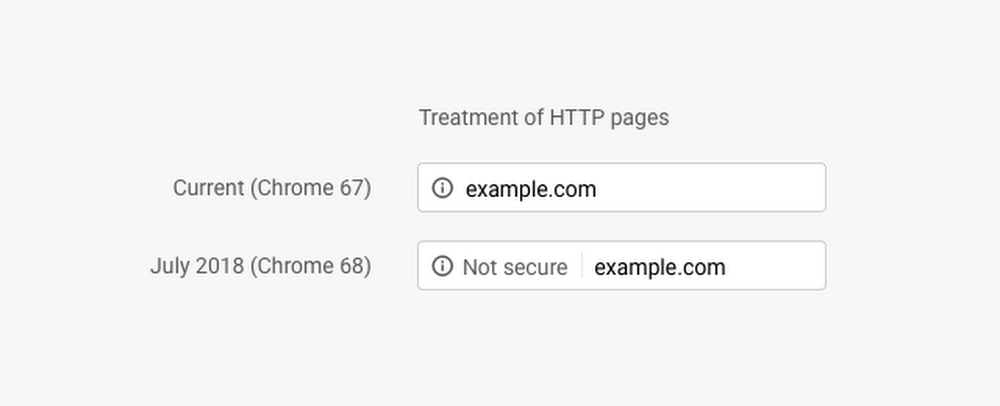 While browsing the internet, you may have noticed that there are two protocols through which communication takes place: HTTP and HTTPS. HTTP allows unencrypted connection. Such lack of security enables ill-intended cyber-attackers to come in between connections and steal or tamper the data-in-transit.
HTTPS, the secure version of HTTP, facilitates encrypted connections. As a result, all data traveling from one connection to another (client to server and vice versa) is turned into an unreadable format. This doesn't let eavesdroppers see or tamper with the data. Therefore, your sensitive information such as credit card details and passwords are protected.
HTTPS plays a very crucial role in protecting against eavesdropping and data tampering attacks, especially when you're using a public wi-fi network.
There was a time when HTTPS was considered to be a luxury rather than a necessity. Only the big banks and big names used to serve their website via HTTPS. However, that time is long gone. HTTPS everywhere is closer to becoming a reality. In future, Google expects HTTPS to become a norm and will treat HTTP sites as exceptions. Future versions of Chrome won't have any positive indicators such as a padlock and will treat HTTP sites as exceptions by marking them 'Not Secure.'
If you still haven't migrated from HTTP to HTTPS, you better do ASAP! Skepticism instilled in a user's mind by the most popular browser on the planet has a significant impact. The only way to do so is to get an SSL certificate.
Purchase Your SSL Certificate
Want to explore SSL Certificates that offer quick delivery at a cost-effective price?