Check out all the shiny new features, enhanced design & just general awesomeness
The time has finally come. After pioneering the industry as a low-cost SSL provider all the way back in 2007, RapidSSLonline.com has officially relaunched with a brand new design and a sweet new control panel. Throughout the years, RapidSSLonline.com has earned a reputation as a place where website owners can go to get SSL certificates from the world's most trusted brands at budget-friendly prices. As traffic continued to explode, it was clear that the time to upgrade the website was long, long overdue.
Our development, design and marketing teams have been working around the clock for what seems like forever…But we're now beyond thrilled to finally bring all of our hard work to life! Just some of the many features you can expect at the new & improved RapidSSLonline.com are:
In-depth FAQs and an extensive knowledge-base
Affiliate and Enterprise programs now available
Now offers the Norton™ Shopping Guarantee
Robust SSL management control panel
Revamped ticket management system
New modern, mobile-friendly design
Clear & informative content
New SSL tools
Take a look at the site, and let us know what you think, what we're missing or anything else you want to say…we're all ears!
Let's take a quick, more in-depth look at some of these shiny new features…
Robust SSL management control panel
We understand that SSL management can be… let's call it complicated. After all, this is a family-friendly email! But we've dedicated our professional lives to SSL and we've used this knowledge and experience to design a brand new control panel that makes managing and provisioning all of your certificates as easy as humanly possible.
This new control panel will allow you to track and manage all of your orders, access our SSL tools, receive account statements, control all of your active certificates (reissue, download, add domains, etc.), receive industry/website notifications, create support tickets, and much, much more! Remember, SSL is all that we do here!
Revamped ticket management system (coming soon)
You will now be able to submit and track support tickets directly from within your control panel. Gone will be the days of having to track all of your support issues via email – it will all be managed from one centralized location that you can access or revisit at any time.
While we certainly hope you never have any support issues with us, we understand that SSL is a tricky beast, and problems do arise from time to time. We're here to assure you that with this new tracking system, combined with our 24/7 team of SSL experts that can be reached via phone, live chat, and ticketing – any issue you encounter will be resolved quickly and professionally.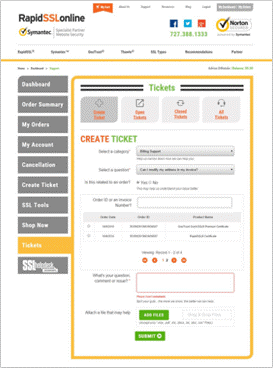 Enterprise & Affiliate programs now available
We have two new partner programs to tell you about as well – the new features just don't stop! Our Enterprise program is perfect for companies that have a large internal need for SSL, as we have the integration tools and attractive pricing options to simplify your SSL management and save you some money to boot. With our Enterprise program, you'll be the hero or your company!
Or, you could leverage the power of our world famous brands and become an Affiliate. Simply upload some conversion-ready banners to your site and make a commission off every sale you bring in through your traffic. Making some extra residual income couldn't be easier!
Ok, enough talking about it – go see for yourself! Head on over to the brand new RapidSSLonline.com now to check out what all the fuss is about. Also, be sure and log in to your account to see how much easier your SSL life will be with our revamped control panel. The holidays have officially come early!