"HTTPS" has become a crucial part in the Internet Security since it was adopted as one of Google's core algorithms in their Search Engine results. Google's role in the adoption of encryption has not been a minor one at all, often Google has been found to be pushing the boundaries and converting people sooner rather than later. Google has massively adopted the encryption technology for their highly reputable and widely used products such as Search, Gmail, Drive, and many other products. Recently, their ads business model also has been migrated over to HTTPS.
Being the giant that Google is in the Search Engine world, Google has taken another step to boost the adoption of "HTTPS Everywhere" through their highly reliable Blogging platform Blogspot. From September 30, 2015 Blogger.com will fully support HTTPS secure connections. Blogger.com is Google's own free Blogging and Content Management System (CMS) since 1999.
Google has defined and outlined all the advantages of HTTPS on the Blogger.com. The goal is that it will help authors and visitors of blog posts stay away from any unauthorized third party connection on the Internet. So, it's time to move to HTTPS on the blogger.com to protect your content and other crucial information on a blog post. The process to enable this "HTTPS" secure connection is easy and quick, just follow the series of steps, which are mentioned below.
To enable HTTPS:
Log-in into Blogger.
Select the blog to update.
On the left menu, click Settings > Basic > HTTPS Settings.
In HTTPS Availability, select Yes.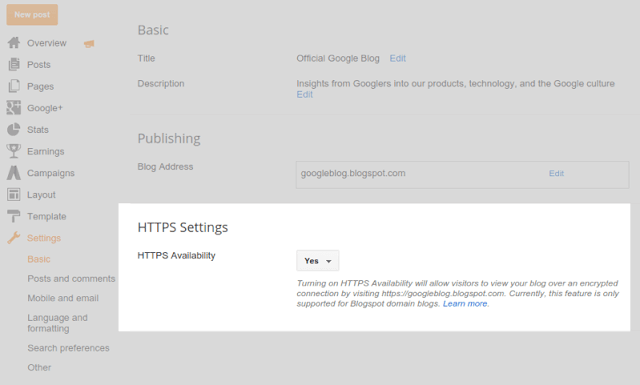 To disable HTTPS, follow the steps above and select No for HTTPS Availability.
If you disable HTTPS, visitors will be redirected to the unencrypted HTTP version of your blog. All bookmarks to your blog will continue to work.
Note: HTTPS isn't available for custom domain blogs.
While enabling HTTPS is beneficial, there's also some issues that might arise that may lead to some of the functionality to not work such as mixed content errors, where you have to deal with template, gadgets, blog post, and other possible mixed content errors.
Please read more about on how to fix mixed content error on your blog.